Friday, September 29th, 2006
The European Space Agency has released some startling news regarding ice levels in the Arctic Circle. The lead paragraph from a recent Associated Free Press article sums it up succinctly:
European scientists voiced shock as they showed pictures which showed Arctic ice cover had disappeared so much last month that a ship could sail unhindered from Europe's most northerly outpost to the North Pole itself.
The following photos show EOS Aqua images of the polar ice cap taken in August 2005 (left) and August 2006 (right).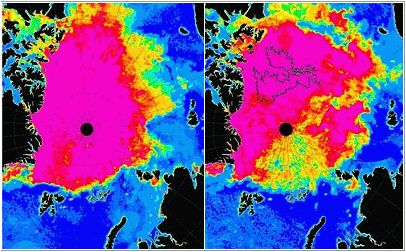 According to Mark Drinkwater of ESA's Oceans/Ice Unit,
This situation is unlike anything observed in previous record low ice seasons. It is highly imaginable that a ship could have passed from Spitzbergen or Northern Siberia through what is normally pack ice to reach the North Pole without difficulty.

If this anomaly trend continues, the North-East Passage or 'Northern Sea Route' between Europe and Asia will be open over longer intervals of time, and it is conceivable we might see attempts at sailing around the world directly across the summer Arctic Ocean within the next 10-20 years.
Full details and high-res images appear at the ESA site.
Among its many satellite imagery services, Satellite Imaging Corp. uses high-resolution satellite imagery for environmental monitoring, which be used for conservation groups, urban/suburban commercial and residential development, and flood prevention. Contact us to see how our satellite image and digital aerial photography services can make your project more efficient.