With increasing population pressure throughout the world and the need for increased agricultural production there is a definite need for improved management of the world's agricultural resources. To make this happen it is first necessary to obtain reliable data on not only the types, but also the quality, quantity and location of these resources. Satellite Images or Aerial Photography (Remote Sensing (RS) technology) has been and always will continue to be a very important factor in the improvement of the present systems of acquiring and generating agricultural and resources data.
Agriculture surveys are presently conducted throughout the world in order to gather information and statistics on crops, rangeland, livestock and other related agricultural resources. This information of data is most important for the implementation of effective management decisions. Agricultural survey is needed for planning and allocation of the limited resources to different sectors of the economy.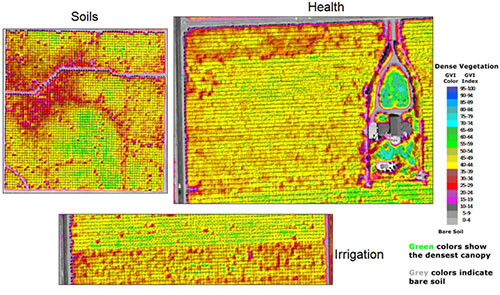 Managed Canopy Assessment
(QuickBird  Copyright © 2007 DigitalGlobe)
Please click on the image to enlarge.
AGROWATCH
Satellite Imaging Corporation provides high resolution satellite imagery to produce green vegetation maps to aid in identifying specific problem areas to help farmers and growers to make better long-term farming decisions. These maps show the integrated result of inputs and environmental, physical and cultural factors affecting crops. Calibrated data can assist in routinely and quantitatively assessment of vegetation amount, status and variation across land, from bare soil to a dense canopy, to better manage of crops this season and to work backward in time to identify yield-limiting factors.
Capturing overviews of large production areas with resolution down to 30-foot detail, AgroWatch Green Vegetation maps also show trends across multiple farms. To enhance in-season decisions the imagery program collects data at predefined times and delivers that data to you online in near real-time. Green Vegetation maps are a significant revenue-enhancing tool that shows you where to scout and sample, the extent and severity of problem areas and where to apply inputs, crop protection products, growth regulators or defoliants.
AgroWatch is a registered trademark of DigitalGlobe.