Friday, October 26th, 2007
Satellite images show results of an airstrike by Israeli's on northeastern Syria's Nuclear site that occured on September 6, 2007. The target remains unknown but widespread reports say it may have been a nascent nuclear facility, which Syria has denied.
Analysts at the Institute for Science and International Security say the images taken Wednesday show tractor marks where the facility stood before the September 6, 2007 air strike took place. They say the satellite images also show what appears to be a trench that might have held buried pipelines connecting the suspected reactor facility to a water supply station.
The analysts say the cleanup will hinder a proposed investigation of the site by international nuclear inspectors. They say the dismantling of the building at such a rapid pace also suggests Syria may be trying to conceal evidence of what was there.
QuickBird Images of Syria Nuclear Site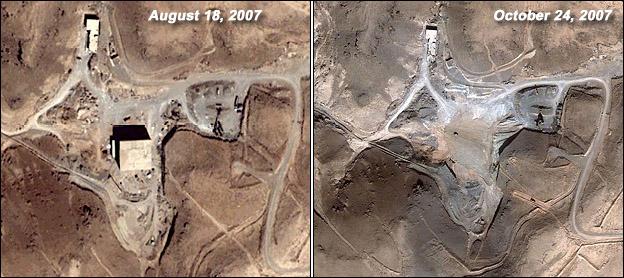 The building is located at the end of a dirt road just off the Euphrates River. The site is about 100 miles from the Iraqi border near the town of At Tibnah in northeastern Syria.
Copyright © 2007 DigitalGlobe. All Rights Reserved.
Watch Video from MSNBC on Syria Nuclear Site
The satellite images above were taken before and after the Israeli strike. These images showed a tall building similar to a reactor in Yongbyon, North Korea. A new satellite image was taken Wednesday October 24, 2007, showing that Syria apparently cleaned up the site of a suspected nuclear reactor after it was bombed by Israeli aircraft last month.
The "before"image on the left was taken August 18, 2007 the "after" image on right on October 24, 2007. The raid, which Syria has confirmed but which Israel and the U.S. have officially declined to discuss, took place September 6, 2007 United States officials mentioned that following the Israeli attack, Syria bulldozed the debris from the site, apparently to avoid having the facility's purpose exposed. The International Atomic Energy Agency IAEA) has said it was studying satellite images to determine if it should investigate Syria's nuclear activities and Israel's raid.
SUSPECT REACTOR CONSTRUCTION SITE IN EASTERN
SYRIA: THE SITE OF THE SEPTEMBER 6 ISRAELI RAID
SYRIA UPDATE: SUSPECTED REACTOR SITE DISMANTLED