Tuesday, February 19th, 2008
This Envisat satellite image highlights portions of three of the lakes located in the Western Rift of the Great Rift Valley, a geological fault system of Southwest Asia and East Africa. The series of lakes in and around the Great Rift Valley are referred to as the Great Lakes of Africa.
Envisat's Advanced Synthetic Aperture Radar (ASAR) instrument acquired this image on 24 September 2007 while working in Wide Swath Mode (WSM) to provide a spatial resolution of 150 meters.
ENVISAT Satellite Image – Great Rift Valley

Image Credit : ESA (European Space Agency)
Lake Edward (top) straddles the border of DRC and Uganda (upper right). It is 77-km long, 40-km wide and covers a total surface area of some 2300 sq km, making it the smallest of the Great Lakes of Africa. Lake Kivu (middle) borders of DRC and Rwanda (right), covers a total surface area of some 2700 sq km, stands roughly 1460 m above sea level and is 480 m deep. The pronounced depth of the lake is a result of the rift valley slowly pulling apart, causing volcanic activity. At 676-km long, Lake Tanganyika (bottom) is the world's longest freshwater lake, nearly the entire western part of the lake is in DRC.
Volcanoes National Park (in northwestern Rwanda) and the Virunga National Park (in DRC) are located between Lakes Edward and Kivu. In addition to being home to five of the eight volcanoes (visible above Lake Kivu) of the Virunga Mountains, Volcanoes National Park is the home of the largest wild population of mountain gorillas.
To view 3D Fly Through of Visoke Volcano in Virunga National park click here.
To view 3D Satellite Image of Visoke Volcano, Volcanoes National Park click here.
To read our article on Satellite Remote Sensing Technology and GIS for Wildlife Conservation click here.
About the ENVISAT Satellite
European Space Agency launched Envisat in March 2002, the largest Earth Observation spacecraft ever built. It carries ten sophisticated optical and radar instruments to provide continuous observation and monitoring of the Earth's land, atmosphere, oceans and ice caps. Envisat data collectively provide a wealth of information on the workings of the Earth system, including insights into factors contributing to climate change.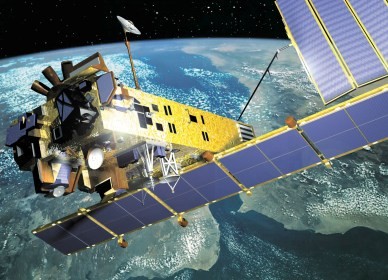 Image Credit: ESA
With an ambitious and innovative payload, Envisat data supports earth science research and allows monitoring of the evolution of environmental and climatic changes as well as facilitate the development of operational and commercial applications.
Its largest single instrument is the Advanced Synthetic Aperture Radar (ASAR), operating at C-band, ensures continuity of data after ERS-2. It features enhanced capability in terms of coverage, range of incidence angles, polarization, and modes of operation. The improvements allow radar beam elevation steerage and the selection of different swaths, 100 or 400km wide.
The Medium Resolution Imaging Spectrometer (MERIS) is a imaging spectrometer that measures the solar radiation reflected by the Earth, at a ground spatial resolution of 300m, with 15 spectral bands in visible and near infra-red and programmable in width and position. MERIS allows global coverage of the Earth every 3 days.
The primary mission of MERIS is the measurement of sea color in oceans and coastal areas. Knowledge of sea color can be converted into a measurement of chlorophyll pigment concentration, suspended sediment concentration and aerosol loads over marine areas. It is also used for land and atmospheric monitoring.