Saturday, September 6th, 2008
GeoEye-1 satellite sensor launched successfully from Vandenberg Air Force Base in California on September 6th, 2008 at 11:50:57 Hrs (PDT). With the GeoEye-1 successful launch, GeoEye will be ready to start full commercial operations for GeoEye-1 imaging products a few months after launch. Immediately after launch there will be a 45- to 60-day engineering and calibration period.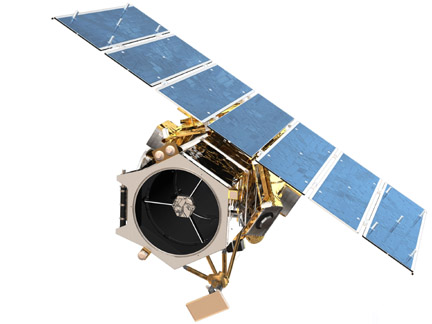 GeoEye-1 Satellite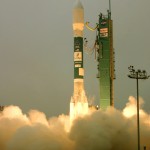 GeoEye-1 Launch 
 (To enlarge Images, please click on Image) 
For GeoEye-1 Satellite Sensor specifications Click Here. 
Satellite Imaging Corporation customers interested in GeoEye-1 imaging products can order basic georeferenced, orthorectified image data for standard products or stereo imagery for the production of Digital Elevation Models (DEM's) to support 3D terrain models for various applications including flight simulation, 3D terrain analysis and GIS projects. 
GeoEye-1 will have the highest resolution of any commercial imaging system and be able to collect images with a ground resolution of 0.41-meters in the panchromatic or black and white mode. GeoEye's operating license from NOAA requires re-sampling the imagery to 0.50-meters resolution for all customers not explicitly granted a waiver by the U.S. Government. It will collect multispectral or color imagery at 1.65-meter resolution, a factor of two better than existing commercial satellites with four-band multispectral imaging capabilities (RGB and NIR) especially suitable agriculture crop management and forestry.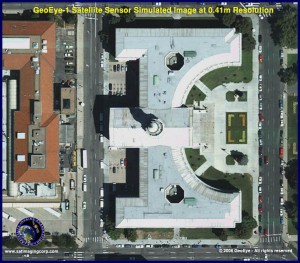 GeoEye-1 Simulated Satellite Image at 0.41m resolution 
(To enlarge Images at full resolution, please click on Image) 
GeoEye-1 is designed to have better than three-meter geospatial position accuracy, which means that customers can map natural and man-made features to within three meters of their actual locations on the surface of the Earth in reference to the WGS-84 reference system, without GPS derived ground control points (GCP's). This degree of inherent accuracy will benefit customers requiring the best accuracy possible for commercial imaging, without requiring survey personnel on the ground to establish ground control points prior to Image data acquisition. By using only a couple of ground control points over large areas, sub-meter geospatial position accuracy can be obtained with orthorectification. 
GeoEye-1's optical telescope and high-speed digital processing electronics are capable of processing 700 million pixels per second. GeoEye-1's camera allows for side-to-side extensions of the camera's 15.2 kilometer (9.44 miles) wide swath width or multiple images of the same target during a single pass to create stereo images. 
GeoEye-1 satellite will complement GeoEye's current IKONOS satellite system, proven to be one of the best commercially available high resolution satellite sensors collecting mono and stereo image data in one pass. "With the addition of the GeoEye-1 satellite sensor, GeoEye's experienced Satellite Operation Management (SOM) team will have more imaging resources available to collect and deliver image data even faster than before and continue making deliveries on time." said Leopold Romeijn, President of Satellite Imaging Corporation of Houston, Texas. 
The GeoEye-1 will collect imagery about 40 percent faster for panchromatic and 25 percent faster for multispectral collections. Together, the IKONOS and GeoEye-1 satellites can collect almost one million square kilometers of imagery per day. For time critical imagery, Satellite Imaging Corporation can now even faster collect and deliver image data to its ever growing customer base. 
With the ability to revisit any location on the globe every three days, and at lesser resolution more frequently, GeoEye-1 will enable customers to receive imagery updates on a regular basis and is ideal for large-scale mapping projects. This capability will benefit a broad array of industries including national defense and intelligence, online mapping, state and local governments, environmental monitoring and land use management, oil and gas, mining, utilities, disaster management, insurance and others. 
Satellite Imaging Corporation (SIC) provides archived and new IKONOS, GeoEye-1, QuickBird, WorldView-1, SPOT, ALOS and other Satellite Image data for many areas around the Globe and utilizes advanced Remote Sensing techniques, color and panchromatic image data processing services, orthorectification, culture and feature extractions, pan sharpening with image data fusion from different sensors and resolutions, enhancements, georeferencing, mosaicing and color/grayscale balancing for GIS and other geospatial applications. For more information on satellite image data products and services, please contact us or visit our website. 
Images are courtesy of GeoEye.