Thursday, January 22nd, 2009
During the inauguration of President Barack Obama on Capitol Hill on Tuesday January 20th, 2009 at 11:19 Hrs (EST), the GeoEye-1 satellite acquired a 0.41m natural color satellite image marking this historic event identifying the large crowd of supporters. Satellite Imaging Corporation  will carry this Satellite Image on its website for many to view and enjoy.
The CNN coverage of this historic image is featured below, as well as the image itself.
Satellite Imaging Corporation (SIC), an official Value Added Reseller (VAR) of GeoEye satellite imaging products and services is announcing that GeoEye programmed the new GeoEye-1 high-resolution earth imaging satellite, traveling at an altitude of 423 miles from north to south along the eastern seaboard of the United States at 17,000 mph or about four miles per second, to acquire a 0.41m resolution satellite image over Capitol Hill, Washington D.C. during the inauguration of President Barack Obama. However, due to current U.S. licensing restrictions the imagery is re-sampled to half-meter (0.5m) ground resolution. GeoEye will release the GeoEye-1 Satellite sensor for commercial tasking orders on February 5, 2009. GeoEye and Satellite Imaging Corporation will begin accepting orders for Mono and Stereo GeoEye-1 Satellite Imaging data products on that date.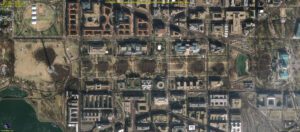 Geoeye-1 Satellite Image of Obama's Inauguration – January 20, 2009
The GeoEye-1 satellite was successfully launched on Saturday, September 6, 2008 at 11:50:57 Hrs (PDT) aboard the United Launch Alliance (ULA) Delta II launch vehicle, procured from Boeing Launch Services, from Vandenberg Air Force Base in California.
Over two (2) million spectators and supporters celebrating this historic event in Washington D.C. on January 20th, 2009 at Capitol Hill and National Mall. With weather conditions improving during the morning hours GeoEye's operations team scheduled the acquisition of the planned GeoEye-1 satellite image. The GeoEye-1 satellite image clearly identifies the crowds in the various areas of activities.
"An image of the Inauguration has been requested by many news organizations and if the weather cooperates, the image will be distributed to news organizations and bloggers around the world. The image will be available about three hours after its collected," as stated by a GeoEye spokesperson.
To view the entire 0.5m resolution GeoEye-1 satellite image of this historic event, please Click Here.