Satellite image of Typhoon Ketsana heading towards Taiwan after hitting the Philippines which in a matter of hours, dropped a month's worth of rain on the capital of Manila. Streets resembled rivers, covered by water that was chest high. The flooding is the worst in more than 40 years.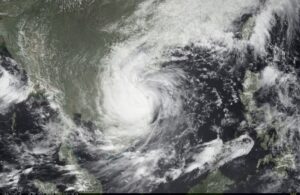 Satellite Image Typhoon Ketsana
Image Credit: NOAA
The storm left more than 200 hundred dead or missing and forced thousands to stay at relief operations centers. Many buildings, establishments, animals, cars and other things were destroyed due to Typhoon Ketsana. With more casualties expected and search and rescue efforts continued.
To view video on damage from Typhoon Ketsana in the Philippines go here.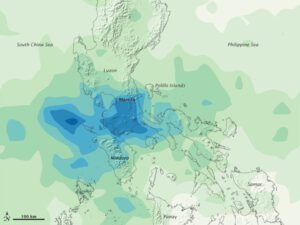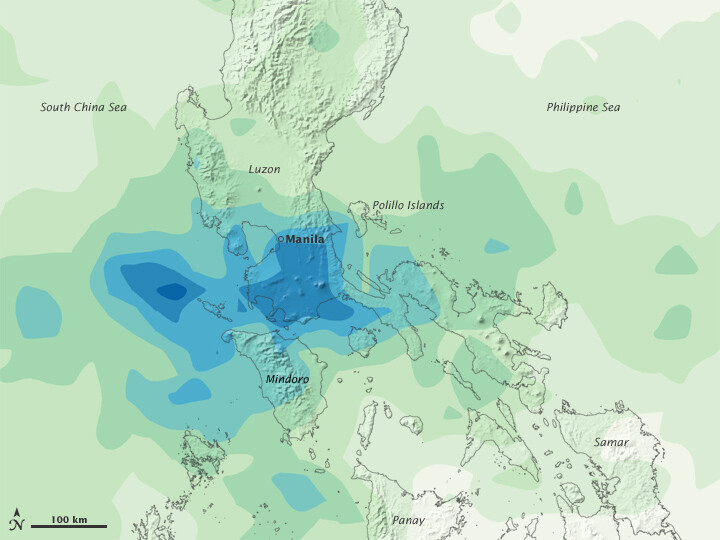 Image Credit: NASA
This satellite image acquired by multiple satellites, are calibrated with rainfall measurements from the Tropical Rainfall Measuring Mission (TRMM) satellite in the Multi-satellite Precipitation Analysis. The highest rainfall amounts—more than 600 millimeters (23.6 inches)—appear in blue. The lightest amounts appear in pale green. Gray shading indicates island topography of the Philippines.
Satellite Imagery and Mapping of Natural Disasters
Emergency managers use remote sensing and mapping tools such as satellite imagery and GIS can facilitate critical decision-making before a disaster impacts an area.  In the early, crucial stages of a disaster or emergency and throughout the disaster process, managers use satellite imagery and GIS products because they provide important information, in quick and easy-to-understand formats.
Remote Sensing gives state and government agencies the ability to view the damage from multiple vantage points. The spatial resolution of an image determines the ability to view individual features such as buildings and bridges. It also affects the ability to monitor and assess damage conditions, and depends on the nature of the hazard itself.
About Satellite Imaging Corporation:
Satellite Imaging Corporation (SIC), a privately held technology company, provides global satellite imaging and processing services for a number of industries, including oil and gas, mining, cadastre, tax mapping, construction, environmental, forestry and agriculture.
The company specializes in mono and stereo satellite imaging technology producing seamless orthorectified Satellite Imaging mosaics DEM's and 3D terrain models for many industries using CAD and GIS applications including, flight simulations, terrain modeling, engineering and construction using high and medium resolution mono and stereo satellite image data.
Website: www.satimagingcorp.com