Coastal satellite images and aerial photography incorporated with Geographic Information Systems (GIS), can give coastal resource managers and emergency officials a wealth of information for assessment, analysis and monitoring of natural disasters such as tsunamis, earthquakes and typhoons.
Remote Sensing gives state and government agencies the ability to view the damage from multiple vantage points. The spatial resolution of an image determines the ability to view individual features such as buildings, bridges and homes. It also affects the ability to monitor and assess damage conditions, and depends on the nature of the hazard itself.
Latest News
On Tuesday the 29th of September a devastating  tsunami hit Samoa Islands after a massive earthquake measuring between 8.0 and 8.3 struck Lalomanu, Pago Pago, and Tonga a section of the Samoa islands that is home to 65,000 people.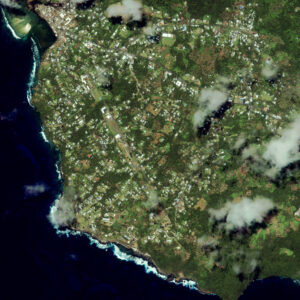 GeoEye-1 Satellite Image Pago Pago, Samoa Islands
Death toll is expected to climb into the hundreds and many are still missing. Four tsunami waves 15 to 20 feet high hit American Samoa about 15 minutes after the quake, reaching up to a mile inland. The tsunami may have been destructive along coasts near the earthquake epicenter and could also have been a threat to more distant coasts.
Two color-coded perspective views of the Independent State of Samoa (left) and American Samoa (right), generated with digital elevation data from the Shuttle Radar Topography Mission, illustrate the varying topography of the islands. Image Credit NASA
QuickBird Satellite Image Kalutara Beach, Sri Lanka
Click on Image for a high resolution view
Image Copyright: DigitalGlobe
Satellite Images of Pre and Post Tsunami Sumatra, Indonesia – 2004
Click on image to view animations
Image Copyright: Space Imaging/CRISP-Singapore
The above satellite image are before and after satellite images of the tsunami that hit Indonesia in 2004 and killed 150,000 people, this tsunami was 10 times stronger then the tsunami that hit Samoa Islands.
To view a Video of the Samoa Tsunami.
To view photo gallery from Washington Post.
About Samoa Islands
American Samoa is a group of six Polynesian islands in the South Pacific located between Hawaii and Australia. Fourteen degrees below the equator, it is the United States' southern-most territory. It is known as the heart of Polynesia. If you drew a triangle from Hawaii, New Zealand and Tahiti you would find Samoa in the middle. Western Samoa is a neighboring independent country that shares the same culture. American Samoa became an unorganized U.S. territory in 1900.
Satellite Imaging Corporation (SIC), a privately held technology company, provides global satellite imaging and processing services for a number of industries, including oil and gas, mining, cadastre, tax mapping, construction, environmental, forestry and agriculture.
The company specializes in mono and stereo satellite imaging technology producing seamless orthorectified Satellite Imaging mosaics DEM's and 3D terrain models for many industries using CAD and GIS applications including, flight simulations, terrain modeling, engineering and construction using high and medium resolution mono and stereo satellite image data.
Website: www.satimagingcorp.com