Triple-digit temperatures, extremely low relative humidity and dense vegetation that have not burned in decades with years of extended drought are all contributing to the explosive growth of wildfires throughout Southern California.
This satellite image of The Station Fires in Los Angeles from the Moderate Resolution Imaging Spectroradiometer (MODIS) on NASA's Aqua satellite captured this true-color image around 1:55 p.m. local time on September 2, 2009. Puffy white clouds hover in the east, but dingy gray smoke lingers in the west and south.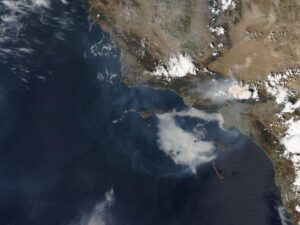 Photo Credits: MODIS Satellite Image provided by NASA
Satellite Image
The Station Fire had cost more than $27 million to fight, according to the Los Angeles Times. According to September 3 report from California's Department of Forestry and Fire Protection, the fire had burned 160,000 acres, and had damaged or destroyed more than 70 homes, three commercial properties, and more than 30 outbuildings or other structures. Hundreds of commercial properties and thousands of homes remained under threat, but the fire was 38 percent contained on September 4th, 2009.
Monitoring and Mapping Fire Disasters
Fire and emergency applications are one of the strongest uses for GIS and remote sensing, particularly fire mapping, responding to emergency situations, hazardous fuels reduction, community assistance, firefighting, rehabilitation, and restoration.
Forest fires have an important influence on the vegetation cover, animals, plants, soil, stream flow, air quality, microclimate, and even general climate. The loss of timber is obvious and so is the damage to life and property. The loss of recreation value of the forest and the destruction of wildlife habitat are also consequences of forest fires.
Researchers and scientists have long been trying to predict the behavior of a forest fire.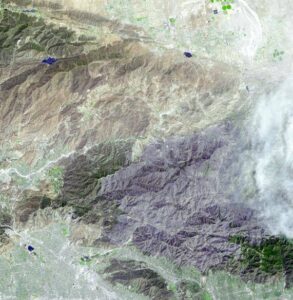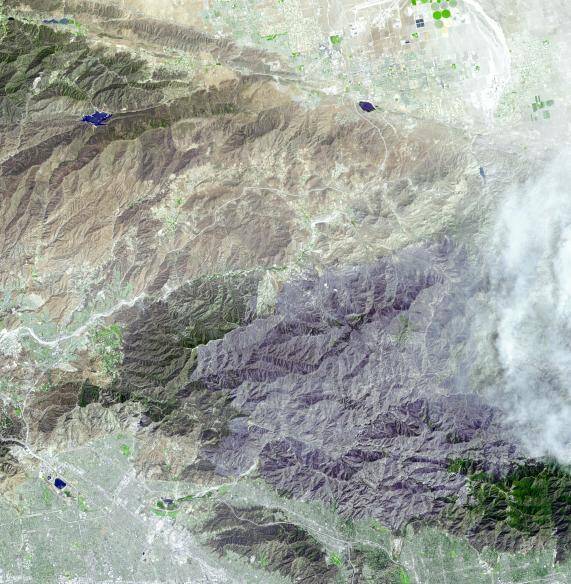 ASTER Satellite Image of Station Fire, San Gabriel Mountains, CA, USA
Image credit: NASA
September 6, 2009, the Advanced Spaceborne Thermal Emission and Reflection Radiometer (ASTER) instrument on NASA's Terra satellite captured this simulated natural color image of the Station fire, burning in the San Gabriel Mountains north of Los Angeles.
Computer modeling has been the effort of many scientists using high resolution satellite imagery and GIS. In order to model a forest fire, the techniques for obtaining, analyzing and displaying spatial information in a timely and cost-effective manner are needed which has proven not only to be possible, but incredibly efficient and effective.
About Satellite Imaging Corporation:
Satellite Imaging Corporation (SIC), a privately held technology company, provides global satellite imaging and processing services for a number of industries, including oil and gas, mining, cadastre, tax mapping, construction, environmental, forestry and agriculture.
The company specializes in mono and stereo satellite imaging technology producing seamless orthorectified Satellite Imaging mosaics DEM's and 3D terrain models for many industries using CAD and GIS applications including, flight simulations, terrain modeling, engineering and construction using high and medium resolution mono and stereo satellite image data.
Website: http://www.satimagingcorp.com