WorldView-2 satellite captured its first pan-sharpened, multispectral images at (0.46 meter resolution) from almost 500 miles above the Earth. These images supply unprecedented detail and geospatial accuracy, further expanding the applications for satellite imagery in both commercial and government markets. Added spectral diversity provides the ability to perform precise change detection and mapping.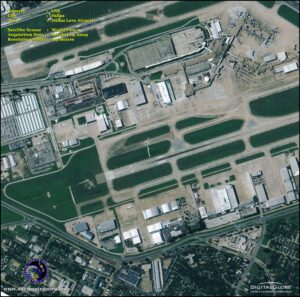 WorldView-2 Satellite Image (0.5m) of Dallas Love Airfield, Texas USA
WorldView-2 Satellite Image (0.5m) of San Antonio Conference Center, Texas USA
WorldView-2 sensor provides a high resolution Panchromatic band and eight (8) Multispectral bands; four (4) standard colors (red, green, blue, and near-infrared 1) and four (4) new bands (coastal, yellow, red edge, and near-infrared 2), full-color images for enhanced spectral analysis, mapping and monitoring applications, land-use planning, disaster relief, exploration, defense and intelligence, visualization and simulation environments.
DigitalGlobe's WorldView-2 was launched successfully on October 8, 2009 11:52 am at Vandenberg Air Force Base, California, U.S.A. With its improved agility, WorldView-2 is able to act like a paintbrush, sweeping back and forth to collect very large areas of multispectral imagery in a single pass. WorldView-2 alone is able to collect nearly 1 million km2 every day, doubling the collection capacity of our constellation to nearly 2 million km2 per day. And the combination of WorldView-2's increased agility and high altitude enables it to typically revisit any place on earth in 1.1 days. When added to the satellite constellation, revisit time drops below one day and never exceeds two days, providing the most same-day passes of any commercial high resolution constellation.
About Satellite Imaging Corporation:
Satellite Imaging Corporation (SIC), a privately held technology company, provides global satellite imaging and processing services for a number of industries, including oil and gas, mining, cadastre, tax mapping, construction, environmental, forestry and agriculture.
The company specializes in mono and stereo satellite imaging technology producing seamless orthorectified Satellite Imaging mosaics DEM's and 3D terrain models for many industries using CAD and GIS applications including, flight simulations, terrain modeling, engineering and construction using high and medium resolution mono and stereo satellite image data such as GeoEye-1, Worldview-1, QuickBird and IKONOS.
Website: http://www.satimagingcorp.com