Remote sensing earth observation (EO) satellites provide significant contributions to desertification assessment and monitoring, particularly by providing the spatial information needed for regional-scale analysis of the relationships between climate change, land degradation and desertification processes.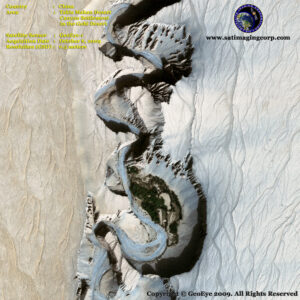 GeoEye-1 Satellite Image of Gobi Desert, China
Image Credit: GeoEye
Gobi desert is expanding at an alarming rate. The expansion is particularly rapid on the southern edge into China. Dust storms, which used to occur regularly in China, have seen a dramatic increase in occurrence in the past 20 years, mainly due to desertification, and causing further damage to China's agriculture economy.
Desertification, land degradation and drought deprive people of food and water and force millions to leave their homes. Desertification refers to the creation of new deserts through the degradation of drylands, which cover 40% of the world's land surface. Land degradation, caused by over-cultivation, over-grazing, deforestation and inefficient irrigation, affects roughly 20% of Earth's drylands.
Satellite imaging technology has been  recognized as playing an important role in achieving this objective by using these methods for monitoring the areas most at risk to support land and water management decisions.
Earth observation (EO) satellite technologies allow land degradation processes to be monitored over time. Monitoring desertification, land degradation and droughts requires continuous evaluation, some of which can be retrieved with earth observation technologies and state-of-the-art geo-spatial applications.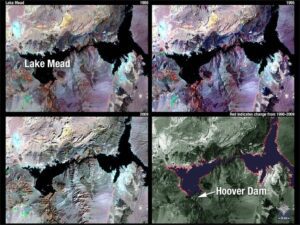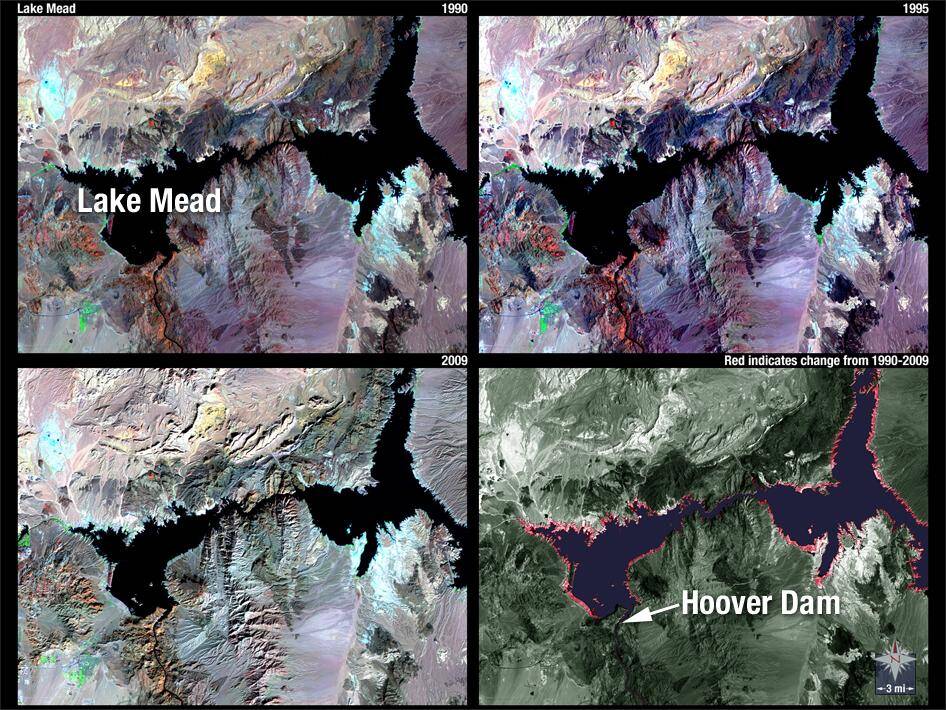 Landsat satellite image series from Lake Mead, we can see the diminishing water level of the reservoir between the 1990s and 2009. The red color in the lower right image shows where the water level has dropped. These false-color images use TM bands 7,4,2.
Credit: NASA/USGS
High-spectral resolution satellite imagery can dramatically increase the accuracy of dryland monitoring. Hyperspectral imagery incorporated with field and laboratory data for analysis can be used to derive more quantitative and specific soil properties directly linked to soil degradation status, such as soil chemical properties, organic matter, mineralogical content, infiltration capacity, aggregation capacity, and runoff coefficient.
Combining satellite image data with weather data, numeric models and geographical information systems (GIS) are used to create standardized geo-information products.
Satellite Image data is expected to contribute to a wide array of global change-related application areas for vegetation and ecosystem dynamics, hazard monitoring, geology and soil analysis, land surface climatology, hydrology, land cover change, and the generation of orthorectified digital elevation models (DEMs).
Satellite imagery analysis allows for:
Fast and accurate overview
Quantitative green vegetation assessment
Underlying soil characteristics
Satellite remote sensing is an evolving technology with the potential for contributing to studies for land cover and change detection by making globally comprehensive evaluations of many environmental and human actions possible. These changes, in turn, influence management and policy decision making. Satellite image data enables direct observation of the land surface at repetitive intervals and therefore allow mapping of the extent and monitoring and assessment of:
Crop health
Storm Water Runoff
Change detection
Air Quality
Environmental analysis
Energy Savings
Irrigated landscape mapping
Carbon Storage and Avoidance
Yield determination
Soils and Fertility Analysis
Identification
About Satellite Imaging Corporation
Satellite Imaging Corporation provides high resolution satellite imagery from satellite sensors such as GeoEye-1, WorldView-2 Worldview-1, QuickBird, IKONOS, SPOT-5 and other remote sensing products for analysis and mapping applications such as Geographic Information System (GIS).
The company specializes in mono and stereo satellite image processing techniques and produce seamless orthorectified satellite imaging mosaic DEM's and 3D terrain models for many industries using GIS applications including, flight simulations and terrain modeling for your specific project needs.
Website: www.satimagingcorp.com