The GeoEye-1 satellite sensor captured Iran's hidden nuclear site under construction near Qom in September of 2009. Hidden in the hills, construction was started at the uranium enrichment site during 2006. The complex is on a military base controlled by Iran, making access difficult. But through information from satellite imagery, Iranian dissidents and other human intelligence, a sufficiently detailed picture was built up to convince investigators that Iran was preparing to make nuclear fuel there.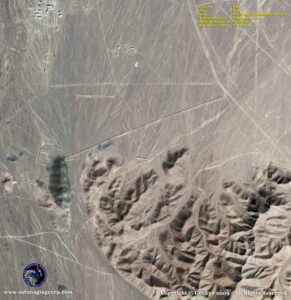 The IKONOS satellite sensor collected this 0.8m Satellite Image on February 5, 2000 showing pre-construction and imagery from the GeoEye-1 satellite (below) shows present construction. GeoEye-1 image taken on September 26, 2009 from 423 miles in space as Virginia based GeoEye's newest satellite, GeoEye-1, moved from north to south over the Middle East at a speed of 7.5 km per second.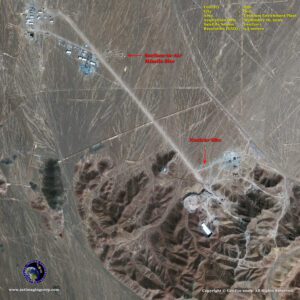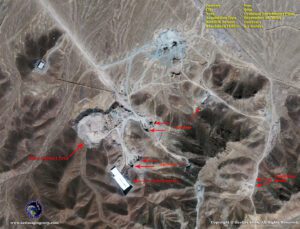 GeoEye-1 Satellite Image Detailed View of Uranium Enrichment Site – Qom, Iran
To view a video of zoomed in high resolution details of site go here

According to IHS Janes, who did the analysis of the imagery, the imagery shows a well fortified facility with a main entrance, which was seen under construction early this year, and is now a building that abuts and provides access into the mountain. Small round ventilation shafts in the center of the mountain are near completion. Quarry equipment, a surface-to-air missile site, and more construction equipment surround the mountain. This facility is still under construction.
The small-scale site discovered near Qom is meant to house no more than 3,000 centrifuges. The enriching machines in Qom facility will produce nuclear fuel, which could possibly be further enriched into material for atomic warheads.
The global standoff over Iran's nuclear program began in 2002 with the discovery of two large nuclear facilities in Natanz and Arak. Tehran insists its nuclear program is for peaceful purposes to generate electricity. Iran says it has built the facility inside a mountain next to a military site to protect its nuclear activities in case of an attack by the US or Israel.
Iran's Existing Nuclear Sites
Arak – Heavy Water Plant
A 40 MWt heavy water moderated research reactor which should be ready for commissioning in 2014.
Natanz – Uranium Enrichment Plant
This once secret site was one of the two exposed by Alireza Jafarzadeh in August, 2002. Under the terms of Iran's safeguards agreement, Iran was under no obligation to report the existence of the site while it was still under construction. There are currently approximately 7,000 centrifuges installed at Natanz, of which 5,000 are producing low enriched uranium.
Isfahan- Uranium Conversion Plant
A nuclear research facility that currently operates four small nuclear research reactors, all supplied by China.  The Uranium Conversion Facility at Isfahan converts yellowcake into uranium hexafluoride. As of late October 2004, the site is 70% operational with 21 of 24 workshops completed. There is also a Zirconium Production Plant (ZPP) located nearby that produces the necessary ingredients and alloys for nuclear reactors.
Bushehr – Nuclear Power Station
Construction was completed in March 2009. The plant is planned to begin production by August 22, 2009 and would be brought up to full capacity by the end of March 2010.
Watch video of  New York Post – Iran: The Nuclear Question
Latest News Update (November 17, 2009) – Russia delays Iranian reactor, Turkey awaits response on uranium storage
News Update (November 27, 2009) – Iran rebuked over nuclear 'cover-up' by UN watchdog
Governments and private enterprises throughout the Middle East, Asia, Africa, and Latin America, are quickly learning the value of Remote Sensing and GIS in maximizing security programs. This type of information can enable local governments to better assess and understand how to develop programs to save lives, protect property and enhance the future economic stability of their communities. The current threats to a country range from incidents of terrorism and information attacks on critical infrastructure to the potential use of weapons of mass destruction. Each one of these threats could cause massive casualties and disruption to a country.
By combining satellite imagery and terrain elevation databases from high resolution satellite images from satellite sensors such as GeoEye-1, WorldView-2, Worldview-1, QuickBird, IKONOS and SPOT-5 realistic and true-color 3D terrain visualizations can be created of any location on Earth for flight training, battlefield management, mission rehearsal, research, and other activities which provide vital information for aerial mission planners and command information systems. To view a 3d Fly Through flight simulations of another nuclear site go here.
About Satellite Imaging Corporation:
Satellite Imaging Corporation (SIC), a privately held technology company that provides high resolution satellite imagery from satellite sensors such as GeoEye-1, WorldView-2 Worldview-1, QuickBird, IKONOS, SPOT-5 and other remote sensing products for analysis and mapping applications such as Geographic Information System (GIS).
The company specializes in mono and stereo satellite imaging technology producing seamless orthorectified satellite imaging mosaics DEM's and 3D terrain models for many industries using CAD and GIS applications including engineering and construction, homeland security, defense, intelligence and disaster response using high and medium resolution mono and stereo satellite image data.