Satellite image view of Mount Nyamulagira volcano that erupted earlier this month in Eastern Congo threatening villagers and Virunga National Park, home to rare chimpanzees and critically endangered mountain gorillas.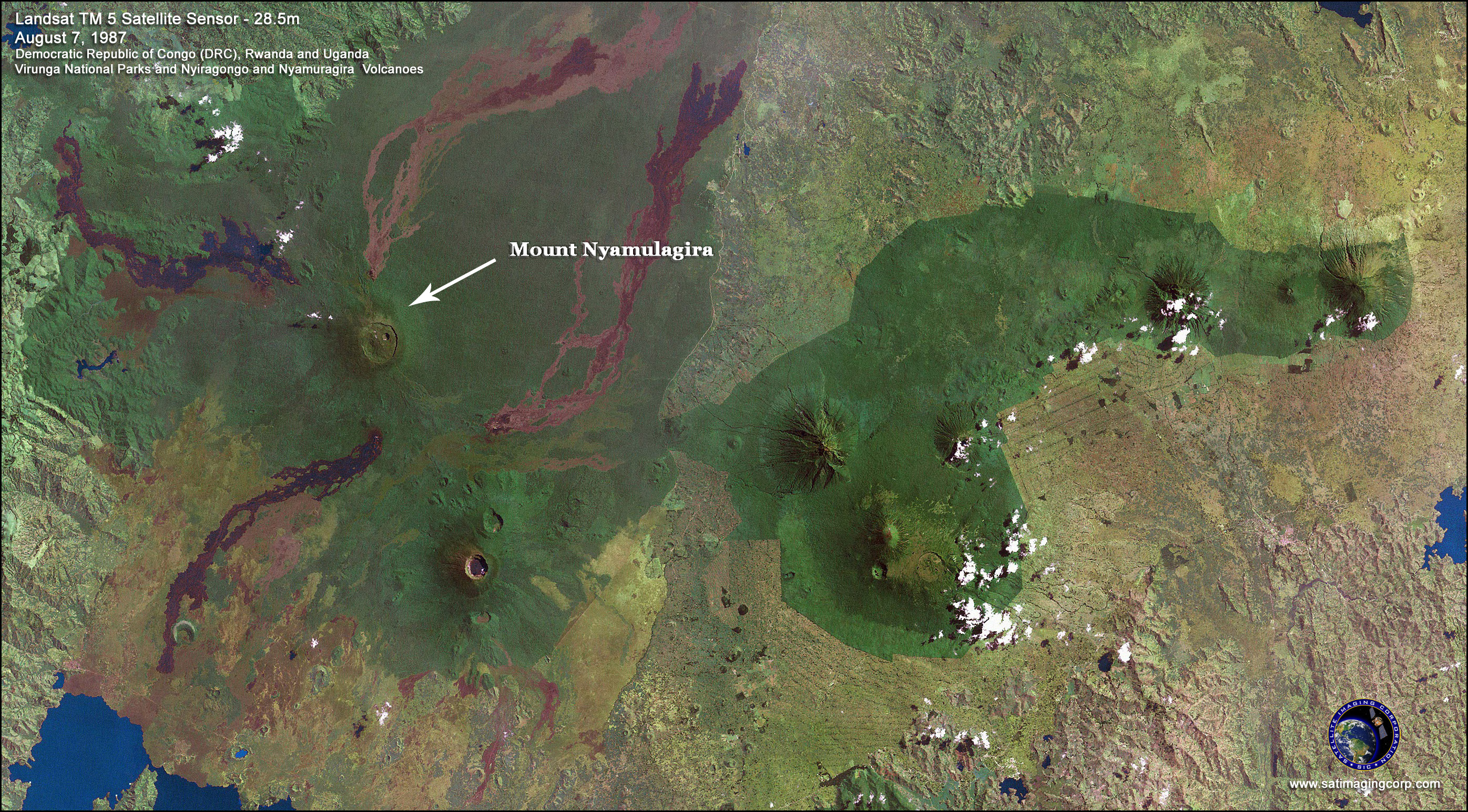 Landsat 7 Satellite Image of Virunga National Parks
Mount Nyamulagira
Nyamulagira (also known as Nyamuragira) is one of Africa's most active volcanoes, if not the most active that last erupted in 2006. About 25 kilometers north of Lake Kivu, and located to the northwest of Nyiragongo Volcano, it contrasts with its tall, steep-sided neighbor. Nyamulagira is relatively short. It is a shield volcano with gentle slopes. Shield volcanoes derive their name from their resemblance to metal shields warriors once used. Major eruptions at Nyamulagira have occurred recently enough to change the volcano caldera's structure since the early 20th century.
More on Virunga National Parks including Satellite Images
To view Thermal Maps of Volcano eruption go here
Latest News (January 25, 2010) on Nyamulagira
Virunga National Park contains within 790,000 hectares the greatest diversity of habitats of any park in Africa, from steppes, savannas and lava plains, swamps, lowland and forests to volcanoes. Thousands of hippopotamuses and elephants live in the park's rivers and its mountains are a critical area for the survival of the mountain and lowland gorillas.
3D Flythrough Movie – Visoke Volcano
1m Stereo IKONOS Satellite Image Data and 5m DTM
The Virunga National Park lies from the Virunga Mountains to the Rwenzori Mountains in the eastern Democratic Republic of Congo which borders the Volcanoes National Park in Rwanda and Rwenzori Mountains National Park in Uganda. Covering 7,800 Km2 it was established in 1925 as Africa's first national park and classified as a World Heritage Site in 1979. It has become well known for its, poaching and civil wars in the region that have seriously damaged its wildlife population.
Remote Sensing for Natural Disasters
Satellite imagery and aerial photography incorporated with geographic information systems (GIS), can give researchers and emergency officials a wealth of information for assessment, analysis and monitoring of natural disasters such as volcano damage from small to large regions around the globe.
Volcanic studies can be organized into three phases:
1. Detection and classification
2. Monitoring activity of existing volcanoes
3. Analysis of eruption in spatial distribution and temporal distribution
Remote Sensing gives state and government agencies the ability to view the damage from multiple vantage points. The spatial resolution of an image determines the ability to view individual features such as morphological features, suitable for eruption warning and for detecting plumes and lava flows. It also affects the ability to monitor and assess damage conditions, and depends on the nature of the hazard itself.
About Satellite Imaging Corporation:
Satellite Imaging Corporation (SIC), a privately held technology company that provides high resolution satellite imagery from satellite sensors such as GeoEye-1, WorldView-2 Worldview-1, QuickBird, IKONOS, SPOT-5 and other remote sensing products for analysis and mapping applications such as Geographic Information System (GIS).
The company specializes in mono and stereo satellite imaging technology producing seamless orthorectified satellite imaging mosaics DEM's and 3D terrain models for many industries using CAD and GIS applications including engineering and construction, homeland security, defense, intelligence and disaster response using high and medium resolution mono and stereo satellite image data.
Website: www.satimagingcorp.com