GeoEye-1 satellite sensor captured a high resolution satellite image of the most devastating earthquake of the century that hit Port-au-Prince, Haiti on Tuesday January 12th. The quake killing around 170,000 people possibly more and leaving one million homeless, without  food or water as a result of a 7.0-magnitude earthquake.
Destruction to buildings, hospitals and roads left Haitians with a shortage on medical supplies and doctors for the injured and no equipment to move the rubble and debris. With many dead and not knowing what to do, people are having to pile bodies in the streets and leaving many with no relief or hope.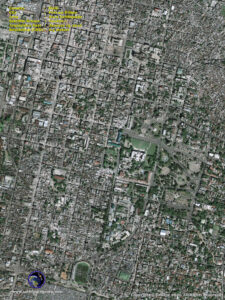 GeoEye-1 Satellite Image – Port-au-Prince, Haiti
Post Earthquake – January 13, 2010
GeoEye-1 satellite image above was taken from 423 miles in space at 10:27 am EST on Jan. 13, 2010 as it moved from north to south over the Caribbean at a speed of four miles per second. Ground resolution is half meter (19 inches).
To view a YouTube video of more Before and After satellite images go here.
The 7.0-magnitude earthquake struck shortly before 5 p.m. Tuesday, centered about 10 miles (15 kilometers) southwest of Port-au-Prince, the U.S. Geological Survey reported. It could be felt strongly in eastern Cuba, more than 200 miles away due to the earthquake being shallow meaning that the energy that was released is very close to the surface. The earthquake's power matched that of several nuclear bombs and about 3 million people were affected by the quake.
Haiti sits on a large fault that has caused catastrophic quakes in the past, but this one was described as among the most powerful to hit the region.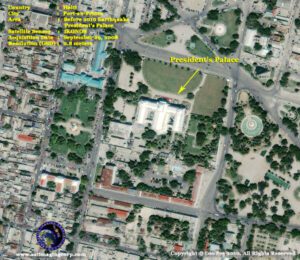 IKONOS (0.8 m) Satellite Image – President's Palace (2008)
Before earthquake – Port-au-Prince, Haiti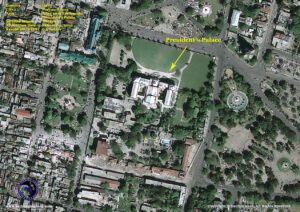 GeoEye-1 Satellite Image – President's Palace (2010)
After earthquake – Port-au-Prince, Haiti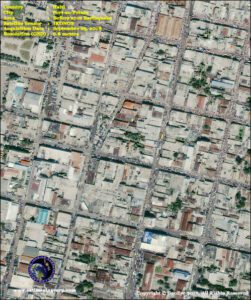 IKONOS (0.8 m) Satellite Image – (2008)
Before earthquake – Port-au-Prince, Haiti
GeoEye-1 Satellite Image – (2010)
After earthquake – Port-au-Prince, Haiti
Damage and Recovery Assessments
The above satellite images show before and after the earthquake causing widespread destruction to communities, buildings and roads. Satellite imagery is used to get ground and air assessments of the damage to help rescue and relief workers to focus on their efforts to respond to emergencies and natural hazards.
Satellite images and aerial photography greatly aids rescue efforts  for emergency personnel to access damage from earthquakes and allowing state and government agencies the ability to view the damage from multiple vantage points. The spatial resolution of an image determines the ability to view individual features such as buildings and bridges. It also affects the ability to monitor and assess damage conditions. Resolution of approximately 10 meters or smaller are necessary to discern the presence and location of individual buildings, while high resolution imagery of one meter or less can distinguish damage conditions of individual buildings, roads and structures.
Topography Along the Enriquillo-Plaintain Garden Fault, Haiti
About Satellite Imaging Corporation:
Satellite Imaging Corporation (SIC), a privately held technology company that provides high resolution satellite imagery from satellite sensors such as GeoEye-1, WorldView-2 Worldview-1, QuickBird, IKONOS, SPOT-5 and other remote sensing products for analysis and mapping applications such as Geographic Information System (GIS).
The company specializes in mono and stereo satellite imaging technology producing seamless orthorectified satellite imaging mosaics DEM's and 3D terrain models for many industries using CAD and GIS applications including engineering and construction, homeland security, defense, intelligence and disaster response using high and medium resolution mono and stereo satellite image data.
Website: www.satimagingcorp.com