Satellite images captured the amazing architecture of the city of Dubai and Abu Dhabi, UAE (United Arab Emirates). Abundant in oil, architecture, and global tourism, these cities are one of the world's most attractive and rapidly developing leisure destinations that offers state of the art modern architecture and facilities offering the highest in comfort and luxury for the traveler or business professional.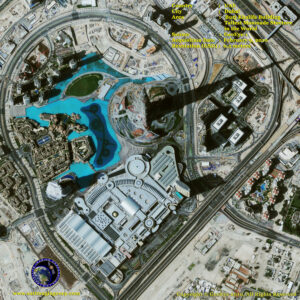 GeoEye-1 Satellite Image of the Burj Khalifa, Dubai, UAE
also known as Burj Dubai – Tallest Building in the World
Courtesy of GeoEye
Dubai
Having existed for more then 150 years, Dubai was created with the formation of the United Arab Emirates in 1971. Over the years Dubai's sophisticated buildings and structures have amazed the world as a popular destination business hub and highlighted human rights issues concerning its largely foreign workforce.
The Jebel Ali free zone, comprising the Jebel Ali port (reputedly the world's largest man made port) was established in 1979, which provided foreign companies unrestricted import of labor and export capital. This allowed the city to develop the Dubai Internet City, Dubai Media City and Dubai Maritime City.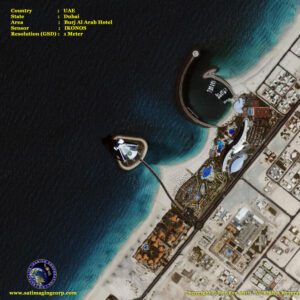 IKONOS Satellite Image of Burj Al Arab Hotel, Dubai, UAE
Courtesy of GeoEye
The recent completion of the construction of Burj Al Arab, the world's tallest freestanding hotel (image above), as well as the creation of new residential developments, were used to market Dubai for purposes of tourism.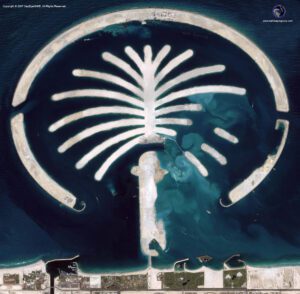 IKONOS Satellite Images of Palm Jumeirah Construction Animation, Dubai, UAE
Click on link or satellite image to view animation
Satellite Image Courtesy of Space Imaging Middle East
Along the coast of Dubai are human-made islands. The construction process for the Palm Islands involved dredging sand from the bottom of the Persian Gulf and then spraying the sand over the areas to create the desired shapes. Satellite imaging technology has played a role in the construction of these islands, as the sand-spraying ships rely on Global Positioning System (GPS) satellite readings to locate their targets.
For more information on The Palm Islands visit here.
ASTER Satellite Image of Palm Jebel Ali, Palm Jumeirah
and The World Islands
Courtesy of NASA/Japanese Space Team
Dubai's population has doubled every ten years since 1971. The city has seen an increase in private real estate investments in recreating Dubai's skyline with such projects as The Palm Islands and Burj Khalifa.
Discovery Channel Videos on Building Dubai – The Impossible City
Part 1, Part 2, Part 3, Part 4, Part 5, Part 6
Abu Dhabi
Abu Dhabi the 2nd largest city is the capital of the United Arab Emirates and home for the Emirati Royal Family. Abu Dhabi also hosts many oil companies and has grown to become a cosmopolitan metropolis which has progressively grown over the years. While not as cosmopolitan or as sophisticated as Dubai, Abu Dhabi is a modern city with broad boulevards, tall office and apartment buildings, and busy shops. At present, Abu Dhabi boasts the worlds highest absolute and per-capita level of sovereign wealth funds.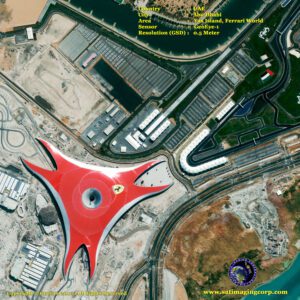 GeoEye-1 Satellite Image of Ferrari World on Yas Island
Abu Dhabi, UAE
Courtesy of GeoEye
Satellite image above of Ferrari World Abu Dhabi, located on Yas Island, will open in 2010 and is set to be the world's largest indoor theme park. The 150-foot tall red steel roof was designed as the classic body shell of a Ferrari GT car and includes a 200-foot Ferrari logo. The park will also include a Formula One spec race track that will host the Abu Dhabi Grand Prix and other racing events. GeoEye-1 .50-meter resolution collected this image on October 2009.
About Satellite Imaging Corporation:
Satellite Imaging Corporation (SIC), a privately held technology company that provides high resolution satellite imagery from satellite sensors such as GeoEye-1, WorldView-2 Worldview-1, QuickBird, IKONOS, SPOT-5 and other remote sensing products for analysis and mapping applications such as Geographic Information System (GIS).
The company specializes in mono and stereo satellite imaging technology producing seamless orthorectified satellite imaging mosaics DEM's and 3D terrain models for many industries using CAD and GIS applications including engineering and construction, homeland security, defense, intelligence and disaster response using high and medium resolution mono and stereo satellite image data.
Website: www.satimagingcorp.com