IKONOS Satellite captured a satellite image of Iceland's Eyjafjallajokull volcano erupting on Wednesday, sending ash drifting over Europe. Three of the biggest airports – Heathrow, Paris-Charles de Gaulle and Frankfurt were closed due to excessive ash cloud coverage. The ash cloud is now spreading towards Greece.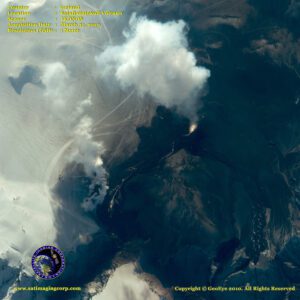 IKONOS (1m) Satellite Image of Eyjafjallajokull Volcano Eruption in Iceland
(Image credit: GeoEye)
This one-meter resolution satellite image features the Eyjafjallajokull Volcano, located in southern Iceland near the Eyjafjallajokull Glacier. According to news reports, the volcano erupted on March 20,2010 for the first time in almost 200 years. The image was taken by the IKONOS satellite from 423 miles in space on March 31, 2010 as it moved from north to south over Iceland at a speed of four miles per second.
To watch video on Eyafjallajokull Eruption go here.
Satellite Image Animation of Volcano Eruption.
About Satellite Imaging Corporation:
Satellite Imaging Corporation (SIC), a privately held technology company that provides high resolution satellite imagery from satellite sensors such as GeoEye-1, WorldView-2 Worldview-1, QuickBird, IKONOS, SPOT-5 and other remote sensing products for analysis and mapping applications such as Geographic Information System (GIS).
The company specializes in mono and stereo satellite imaging technology producing seamless orthorectified satellite imaging mosaics DEM's and 3D terrain models for many industries using CAD and GIS applications including engineering and construction, homeland security, defense, intelligence and disaster response using high and medium resolution mono and stereo satellite image data.
Website: www.satimagingcorp.com