Satellite images of the construction and newly completed Cape Town Stadium (also known as Green Point Stadium) in Cape Town, South Africa a 68,000 seat multi-purpose stadium built for the FIFA World Cup 2010.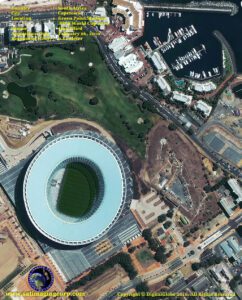 QuickBird Satellite Image of Green Point  Stadium Completed Construction
Cape Town, South Africa
(Image Copyright © DigitalGlobe 2010. All Rights Reserved.)
The Green Point Stadium which was demolished in 2007 with a 18,000 seat capacity hosted many football matches including the Santos Football Club and Ajax Cape Town at different points and to various popular music concerts including Michal Jackson.
Construction began in March of 2007 and took  33 months to complete costing approximately US $600 million. The stadium was completed in December of 2009.
GeoEye-1 Satellite Image of Green Point Stadium Construction
Cape Town, South Africa
(Image Copyright © GeoEye 2010. All Rights Reserved.)
The stadium is located in Green Point, between Signal Hill and the Atlantic Ocean, near the Cape Town city center. The stadium will host first round, second round, quarter, and semi-final matches. GeoEye-1 .50-meter resolution collected this image September 11, 2009.
After the 2010 World Cup, the stadium will be reduced to a capacity of 55, 000 and will cater to various sports, including rugby, as well as music concerts and other major events.
Official FIFA World Cup Website
About Satellite Imaging Corporation:
Satellite Imaging Corporation (SIC), a privately held technology company that provides high resolution satellite imagery from satellite sensors such as GeoEye-1, WorldView-2 Worldview-1, QuickBird, IKONOS, SPOT-5 and other remote sensing products for analysis and mapping applications such as Geographic Information System (GIS).
The company specializes in mono and stereo satellite imaging technology producing seamless orthorectified satellite imaging mosaics DEM's and 3D terrain models for many industries using CAD and GIS applications including engineering and construction, homeland security, defense, intelligence and disaster response using high and medium resolution mono and stereo satellite image data.
Website: www.satimagingcorp.com