Satellite Images captured the environmental disaster of a contaminated waste reservoir that gave way to 24.7 million cubic feet of toxic red sludge on October 4th, 2010,  killing nine people, injuring 150, forcing home evacuations and ruined property over 15 square miles.
The red sludge devastated creeks and rivers near the spill site and entered the Danube on Thursday October 7th 2010, moving downstream toward Croatia, Serbia and Romania.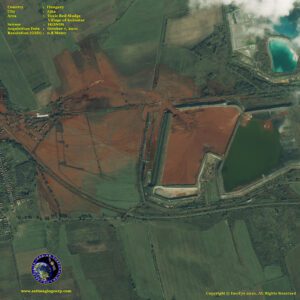 IKONOS (0.8m) Satellite Image of Toxic Red Sludge – Ajka, Hungary, Kolontar Village
(Image copyright © GeoEye 2010. All Rights Reserved.)
The IKONOS one-meter resolution satellite image features a portion of Hungary's toxic sludge spill east of Ajka, Hungary in the village of Kolontar. The image was taken on October 7th, 2010 and shows a close-up of the holding pond where the red mud pollution broke through the retainer wall. On the same day the image was captured authorities reported the spill had reached the Danube River, threatening to contaminate the waterway's ecosystem. The image was collected by the IKONOS Satellite from 423 miles in space as it moved from north to south over Hungary at a speed of 4.2 miles per second.
QuickBird (0.6m) Satellite Image of Toxic Red Sludge – Ajka, Hungary, Kolontar Village
(Image copyright © DigitalGlobe 2010. All Rights Reserved.)
Watch a BBC video on the Industrial disaster here.
View a slideshow of the toxic sludge that hit Kolontar village in Hungary here.
Environmental Disaster Analysis and Monitoring Using Satellite Imagery
Satellite Imagery incorporated with Geographic Information Systems (GIS), can give emergency officials a wealth of information for prevention, analysis, assessment and monitoring of environmental disasters and damage from small to large regions around the globe.
Satellite Images gives state and government agencies the ability to view the damage from multiple vantage points. The spatial resolution of an image determines the ability to view individual features such as buildings and bridges. It also affects the ability to monitor and assess damage conditions, and depends on the nature of the hazard itself.
The following Images are an example of analysis;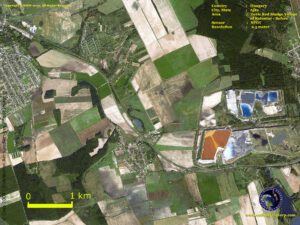 SPOT (2.5m) Satellite Image of Reservoir in Ajka, Hungary – Before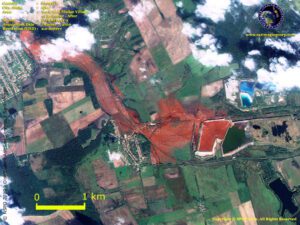 FORMOSAT-2 (2.0) Satellite Image of Reservoir in Ajka, Hungary – After
(Satellite Images Copyright © SPOT 2010. All Rights Reserved.)
About Satellite Imaging Corporation:
Satellite Imaging Corporation (SIC), a privately held technology company that provides high resolution satellite imagery from satellite sensors such as GeoEye-1, WorldView-2 Worldview-1, QuickBird, IKONOS, SPOT-5 and other remote sensing products for analysis and mapping applications such as GIS.
The company specializes in mono and stereo satellite imaging technology producing seamless orthorectified satellite imaging mosaics DEM's and 3D terrain models for many industries using CAD and GIS applications using high and medium resolution mono and stereo satellite image data.
Website: www.satimagingcorp.com