Satellite images captured the catastrophic earthquake and tsunami damages in result of a 8.9-magnitude earthquake that hit northern Japan early Friday March 11, 2011. The earthquake triggered a massive tsunami that caused widespread devastation and damaging a nuclear power plant. Thousands are unaccounted for while search and rescue efforts continue fearing the death toll will rise in the thousands. Japan's Prime Minister says this is the worst crisis that hit Japan since WWII.
WorldView-2 Satellite Image of Fukushima Daiichi
Nuclear Power Plant – March 14, 2011
(Image Credit:  DigitalGlobe. All Rights reserved.)
Japan's troubled Fukushima I Nuclear Power Plant, otherwise known as Fukushima Daiichi, appears in this WorldView-2 satellite image (above) that was captured following an explosion at Unit 3 on March 14, 2011. Click on images to view in high resolution.
Fukushima Daiichi Nuclear Power Plant, Japan
IKONOS Satellite Image of Post Tsunami Acquired on March 12, 2011
(Image Credit:  GeoEye. All Rights Reserved.)
GeoEye-1 Satellite Image of Pre Tsunami Acquired on November 15, 2009
(Image Credit:  GeoEye. All Rights Reserved.)
Friday's tsunami disasters damaged a series of nuclear reactors (satellite images above), first reactor No. 1, then No. 3, No. 2  and today No. 4 was reported on fire. Japan suspended operations to prevent a stricken nuclear plant from melting down Wednesday after a surge in radiation made it too dangerous for workers to remain at the facility.
Sendai, Japan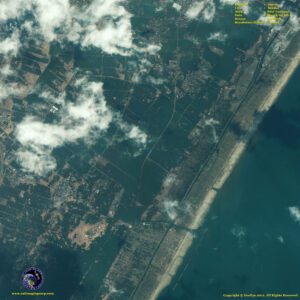 IKONOS Satellite Image of Post Tsunami Acquired on March 12, 2011
(Image Credit:  GeoEye. All Rights Reserved.)
This one-meter resolution satellite image of Sendai, Japan (above), was taken one day after an 8.9-magnitude earthquake struck the Oshika Peninsula on March 11, 2011. According to news reports, this is the largest earthquake to hit Japan in recorded history. Analysts believe the powerful earthquake moved Japan's main island eight feet (2.4 meters), shifted the Earth on its axis four inches (10 centimeters), and unleashed a devastating tsunami. The imagery shows extensive destruction to buildings, vehicles and infrastructure. Entire regions have been flooded, swept away or reduced to ruin. The image was taken by GeoEye's IKONOS satellite at 10:36 a.m. (local time) on March 12, 2011 from 423 miles in space as it moved from north to south over Japan at a speed of four miles per second.
GeoEye-1 Satellite Image of Pre Tsunami Acquired on November 15, 2009
(Image Credit: GeoEye. All Rights Reserved.)
To View More Before and After  Satellite Photos of Japan Tsunami Damage:
Shinchi – After
Minamisanrikucho – After
The above satellite images were captured from high resolution satellite sensors and shows damages to communities, buildings and roads. Satellite imagery is used to get ground and air assessments of the damage to help rescue and relief workers to focus on their efforts to respond to emergencies and natural disasters.
Damage and Recovery Assessments
Satellite images and aerial photography greatly aids rescue efforts  for emergency personnel to access damage from tsunamis and earthquakes and allows government agencies the ability to view the damage from multiple vantage points. The spatial resolution of an image determines the ability to view individual features such as buildings and bridges. It also affects the ability to monitor and assess damage conditions.
More Videos and Photos:
Chilling Video of Japan Tsunami
Photos and Images of Post Tsunami
About Satellite Imaging Corporation
Satellite Imaging Corporation (SIC), a privately held technology company, provides global satellite imaging and processing services for a number of industries, including oil and gas, mining, cadastre, tax mapping, construction, environmental, forestry and agriculture.
The company specializes in mono and stereo satellite imaging technology producing seamless orthorectified Satellite Imaging mosaics DEM's and 3D terrain models for many industries using CAD and GIS applications including, flight simulations, terrain modeling, engineering and construction using high and medium resolution mono and stereo satellite image data.
Satellite Imaging Corporation
36842 Meadow Creek Court
Magnolia, Texas  77355-8603
U.S.A.
Toll Free (866) 283-2952 (US and Canada only)
Tel: (1) 832-237-2900 Ext.: 202
Fax: (1) 832-237-2910
Website: www.satimagingcorp.com