High resolution Satellite Images show the devastating floods of the Mississippi River in the Midwest hitting Arkansas to Tennessee, and Mississippi to Louisiana. Swollen by weeks of heavy rain and snow melt, the Mississippi River has been breaking high water records that have stood since the 1920s and '30s. It is projected to crest at Vicksburg on May 19 and shatter the mark set there during the catastrophic flood in 1927. The river is expected to crest at 57.5 feet on May 19, about 1.5 feet above the 1927 record, according to the U.S. Corps of Engineers.
The City of Natchez is expected to flood on May 21 with New Orleans to follow on May 23. Damage in Baton Rouge and New Orleans could be lessened if the U.S. Corps of Engineers opens the Morganza spillway to relieve pressure on levees but it would flood thousands of acres of farmland and thousands of homes.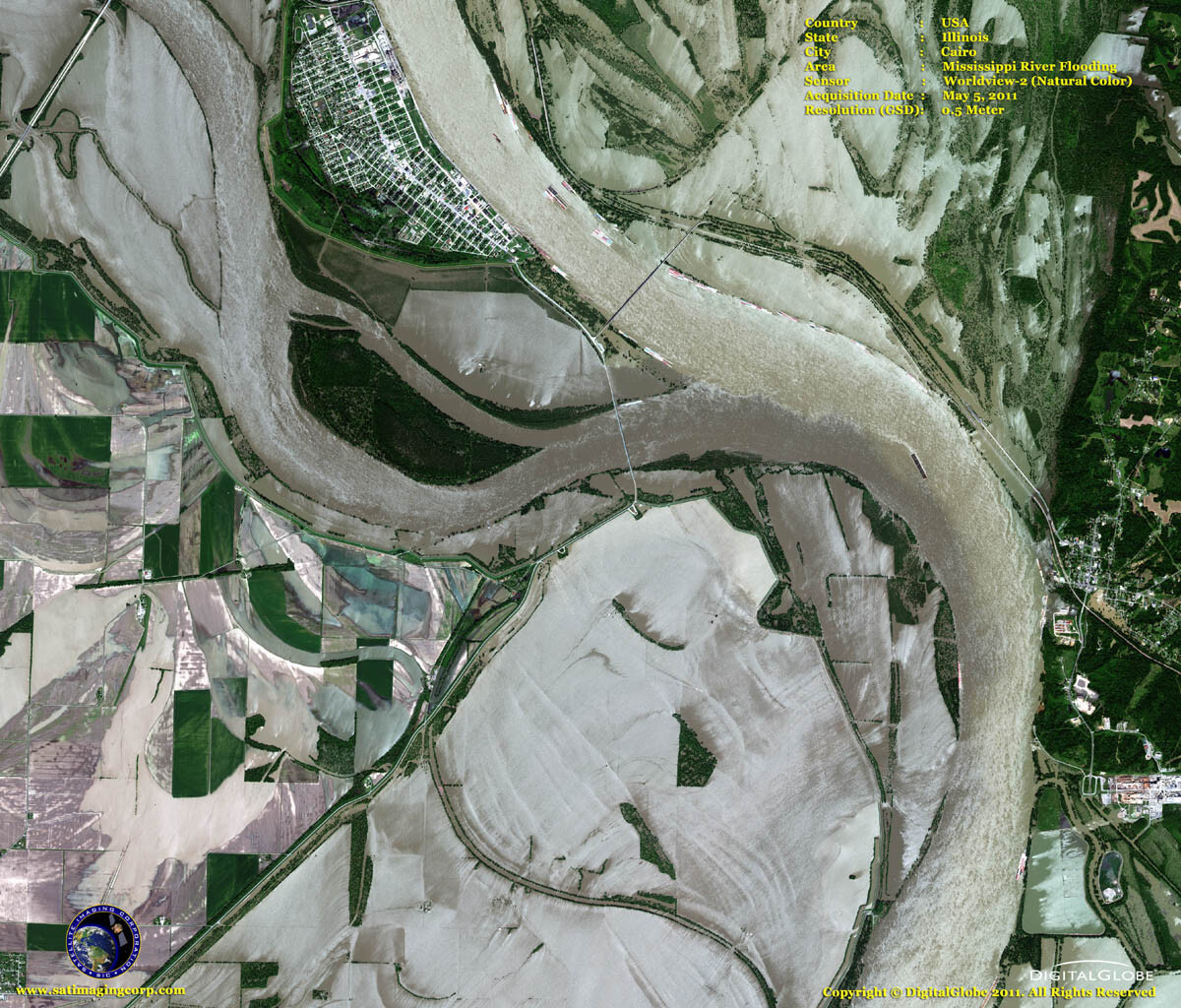 WorldView-2 (Natural Color) Satellite Image of Flooding in the Midwest, Cairo, Illinois
(Image credit: DigitalGlobe)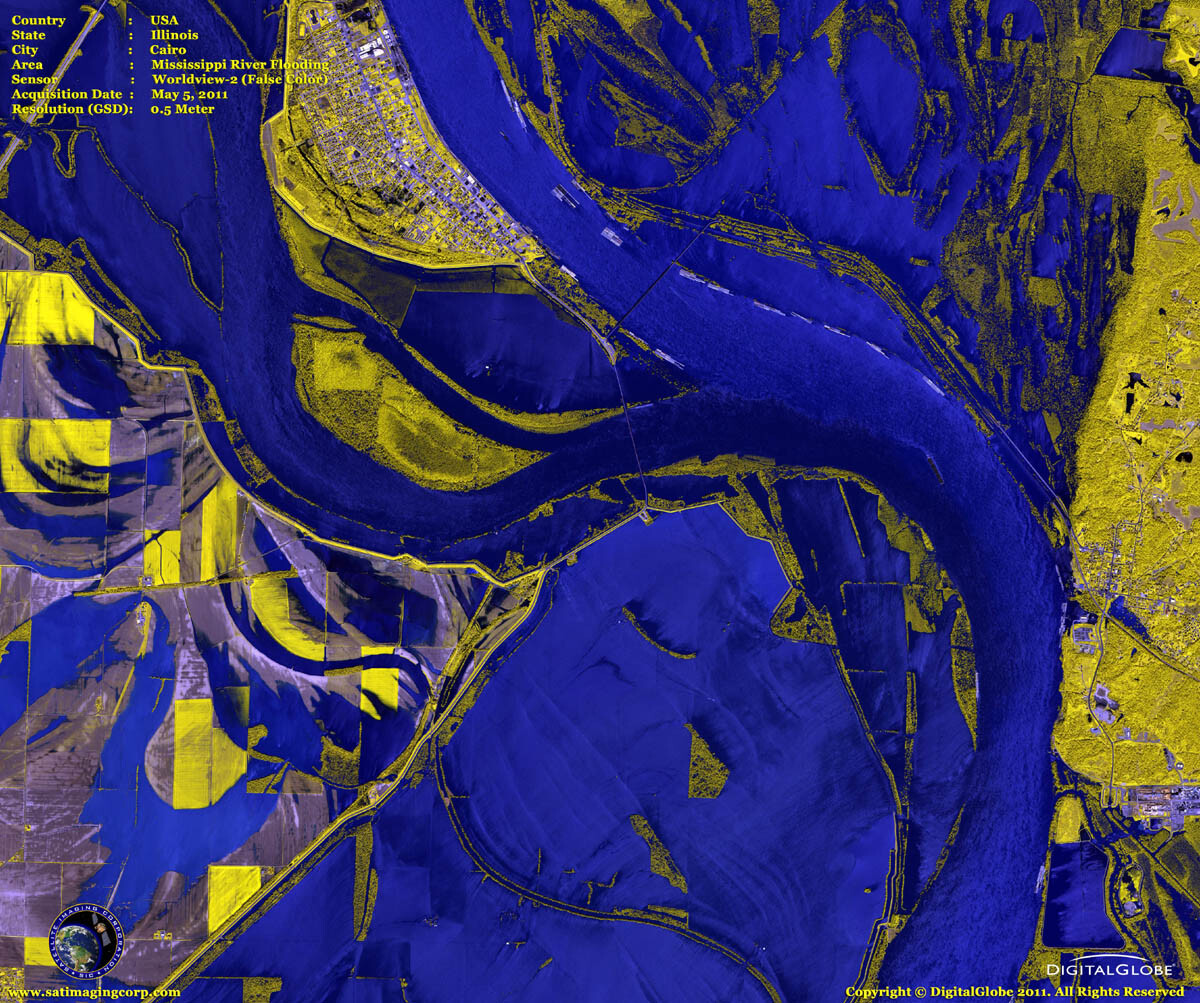 WorldView-2 (False Color) Satellite Image of Flooding in the Midwest, Cairo, Illinois
(Image credit: DigitalGlobe)
The WorldView-2 Satellite sensor provides Multiband (8MS + 1PAN) Satellite Image data to support spectral analysis for various applications. The WorldView-2 Multispectral Band combination of 8-7-4 is providing a 2m resolution Satellite Image where the color blue is water and bright yellow healthy vegetation and darker yellow is vegetation affected by the flooding.
For a White Paper on the benefits of the 8 Spectral Bands of WorldView-2, please click here.
Remote Sensing gives State and Government agencies the ability to view the damage from multiple vantage points. The spatial resolution of an image determines the ability to view individual features such as buildings and bridges. It also affects the ability to monitor and assess damage conditions, and depends on the nature of the hazard itself.
To view more WorldView-2 Satellite Images, visit here.
Boat Tour on Flooding.

All Eyes on Mississippi River Levees, Spillways as Flood Tensions Continue Video.
About Satellite Imaging Corporation:
Satellite Imaging Corporation (SIC), a privately held technology company that provides high resolution satellite imagery from satellite sensors such as GeoEye-1, WorldView-2 WorldView-1, QuickBird and IKONOS, RapidEye and other remote sensing products for analysis and mapping applications such as Geographic Information System (GIS).
The company specializes in mono and stereo satellite imaging technology producing seamless orthorectified satellite imaging mosaics DEM's and 3D terrain models for many industries using CAD and GIS applications including engineering and construction, homeland security, defense, intelligence and disaster response using high, medium resolution mono and stereo satellite image data.
Website: www.satimagingcorp.com