SPOT-6 satellite built by Astrium, Europe's leading space technology company, has delivered its first images just 3 days after launch. The satellite was successfully launched on September 9, 2012 by a PSLV launcher from the Satish Dhawan Space Center in India.
(Image Credit: Astrium)
 SPOT-6 Satellite Image of Bora Bora, French Polynesia
Collected 3 days after launch
SPOT-6 Satellite Image Gallery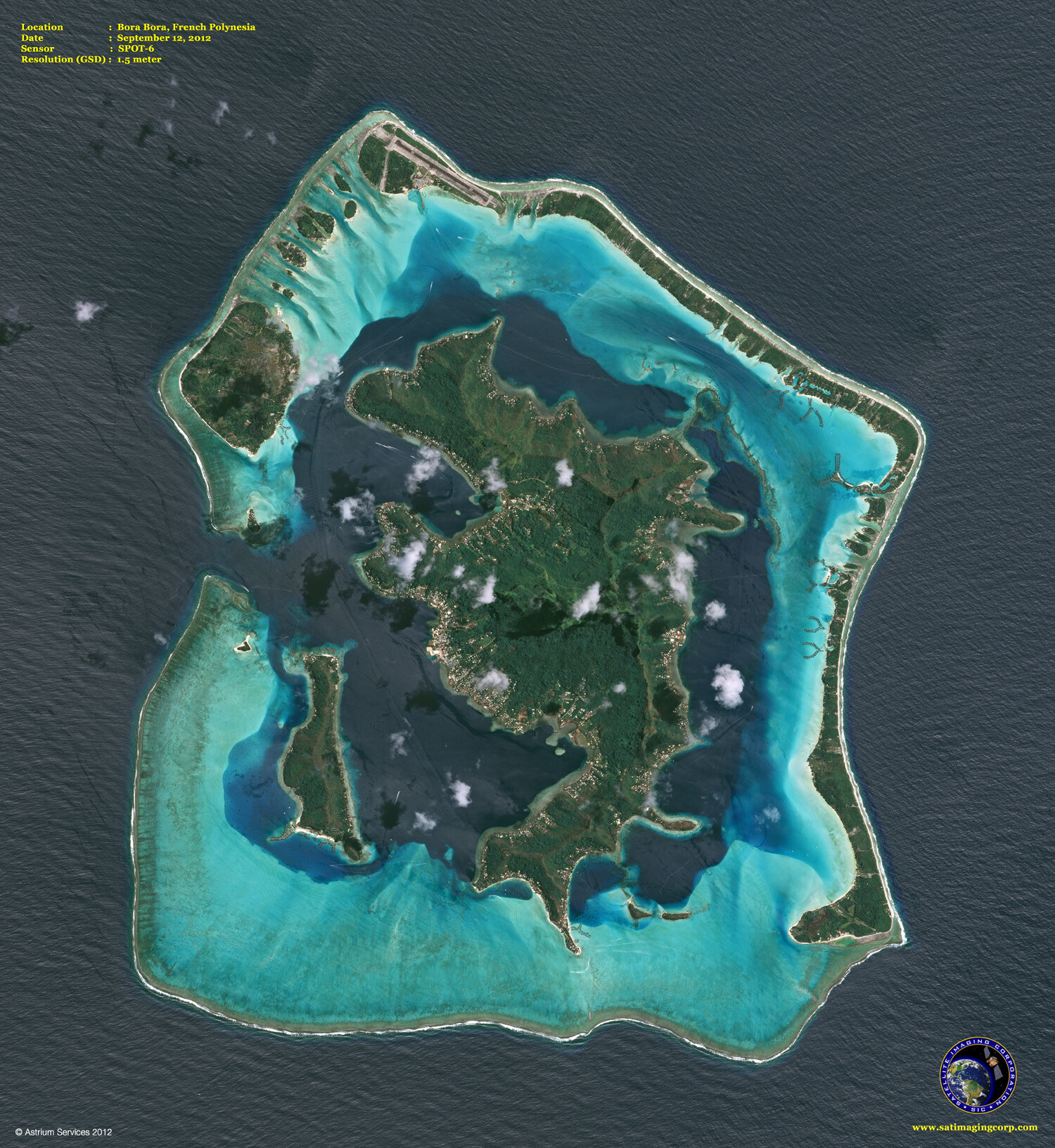 SPOT-6 satellite joined the Pléiades 1A in orbit and will later form with Pléiades 1B and SPOT-7 in 2014 after proposed launch.
SPOT-6 is an optical imaging earth observation satellite capable of imaging the Earth with a resolution of 1.5m Panchromatic and 6m Multispectral (Blue, Green, Red, Near-IR) and will offer imaging products to customers in defense, agriculture, deforestation, environment monitoring, coastal surveillance, engineering, oil and gas and mining industries.
SPOT-6 and SPOT-7 will ensure service continuity of SPOT-4 and SPOT-5 satellites, which have been operating since 1998 and 2002. Moreover, both ground and space segments have been designed for improved performances compared to previous SPOT missions, especially in term of reactivity from satellite tasking to product delivery and collection capacity. The constellation SPOT-6 and SPOT-7 will actually provide a daily revisit everywhere on Earth with a total coverage of 6 million Km² per day. SPOT-6 and 7 will have a service life of 10 years.
About Satellite Imaging Corporation
Satellite Imaging Corporation (SIC), a privately held technology company that provides high resolution satellite imagery and other remote sensing products for analysis and mapping applications such as Geographic Information System (GIS).
The company specializes satellite imaging technology producing seamless orthorectified imaging mosaics, DEM's and 3D terrain models for many industries using CAD and GIS applications using high, medium resolution mono and stereo satellite image data.
For more information, please contact us.
Website: www.satimagingcorp.com