Pleiades-1B satellite was successfully launched on December 2, 2012 built by Astrium was launched off aboard a Soyuz launcher from the European Space Centre in French Guiana.
Pleiades-1B is the second dual-use, very-high-resolution satellite for the Pleiades constellation.
The launch of Pleiades-1B marks the third step in the formation of a constellation of four satellites combining a double daily revisit capability and an ingenious range of resolutions.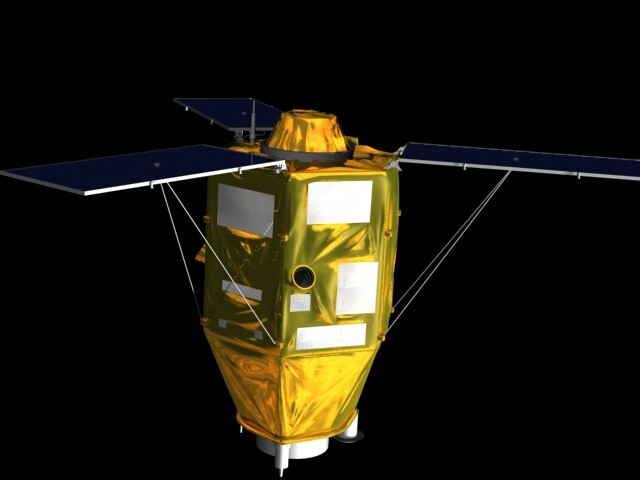 Image Credit: ASTRIUM
Pleiades-1B Satellite Launch
Pleiades-1 (also known as Pleiades-1A) and 1B satellites will be phased 180° apart in the same near-polar sun-synchronous orbit at an altitude of 694 km, enabling daily revisits to any location on the planet which makes it ideal for mapping large scale areas including engineering construction projects, monitoring of mining, industrial and military complexes, conflict zones and crisis/disaster areas, natural disasters, evacuation and rescue operations.
Pleiades-1 and Pleiades-1B will deliver 0.5m imagery products, and SPOT-6 and SPOT 7, designed to assure continuity of service after SPOT-5 (2.5/5m) to supply high-resolution data products at 1.5m resolution. SPOT-6 was launched on September 9, 2012.
In addition to their high precision, the Pleiades satellites are also notable for their remarkable agility, which enables tilted imaging from nadir and operation in several acquisition modes (20 images over 1000 x 1000 km², stereo, 3D, mosaic, corridor, etc.). For more technical information on the Pleaides-1B satellite, please visit here.
About Satellite Imaging Corporation
Satellite Imaging Corporation (SIC), a privately held technology company that provides high resolution satellite imagery and other remote sensing products for analysis and mapping applications such as Geographic Information System (GIS).
The company specializes satellite imaging technology producing seamless orthorectified imaging mosaics, DEM's and 3D terrain models for many industries using CAD and GIS applications using high, medium resolution mono and stereo satellite image data.
For more information, please contact us.
Website: www.satimagingcorp.com