WorldView-2 (0.5m) Satellite Images Before and After Typhoon Haiyan, Philippines
Click on image to view before and after images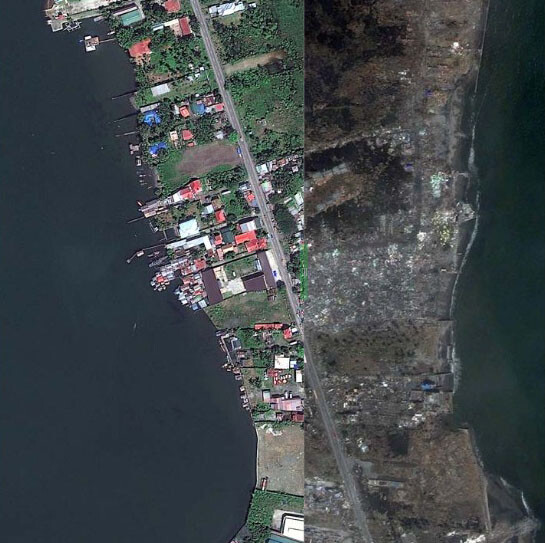 (Image Copyright © DigitalGlobe)
Typhoon Haiyan (also known as Typhoon Yolanda) caused widespread devastation when it struck the Philippines on November 7, 2013. With maximum sustained winds of 195 mph (314 km/h) and a storm surge of 20 feet, the typhoon is among the strongest ever to make landfall.
Military, government and international relief agencies are trying to get emergency aid to the worst-hit areas but rescue efforts have been difficult due to damage to roads and airports. An estimate of up to 5,000 or more people have died in Tacloban city and elsewhere with hundreds of thousands of people displaced seeking for food and water and running out of time.
Photos of Typhoon Haiyan Destruction
About Satellite Imaging Corporation
Satellite Imaging Corporation (SIC), a privately held technology company that provides high resolution satellite imagery and image processing services for analysis and to support Geographic Information System (GIS) and other mapping and research applications.
The company specializes in satellite imaging collections, producing seamless orthorectified imaging mosaics, DEM's and 3D terrain models for many industries using CAD and GIS applications utilizing high, medium resolution mono and stereo satellite image data.
For more information, please contact us.
Website: www.satimagingcorp.com